Top Three Ways to Treat Your Eyes on Halloween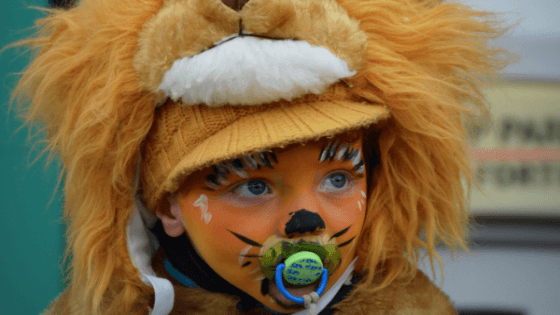 Getting dressed up in the perfect costume is a huge part of Halloween fun and many people want to elevate their costume with makeup, props and even colored contact lenses to make their eyes look spooky. While these might make you look awesome, they can be more dangerous than the ghosts, goblins and ghouls that are out on All Hallows' Eve. Treat your eyes right this Halloween with these three tips!
1. Makeup over Masks!
A Halloween costume might not be complete without a mask or makeup. But because masks can impede vision and make breathing more difficult, makeup is the safer option.
There are a few tricks to wearing costume makeup safely:
Try a test patch on your hand before putting any makeup on your face.

Leave an area around your eyes makeup free so you don't end up with makeup in your eyes.

Remove your makeup completely at the end of the night.

When using false eyelashes, use only approved eyelash glue.
2. Accessorize safely.
When your mom says "you'll poke an eye out" she isn't joking! Sharp accessories are common on Halloween, but in crowded or low light areas they can easily poke someone in the eye and cause a severe eye injury. If you need the accessory to complete the costume, like an axe if you are going as a lumberjack, opt for a foam version to avoid injuring yourself or someone else.
3. Be wise with colored eyes.
Red, purple or even all white eyes can be achieved with colored contact lenses which can be fun on Halloween and take your costume to the next level, but they can be dangerous if not used properly.
Before you order contacts online you will want to make an appointment with your eye doctor. Even if you have perfect vision, your eyes have unique measurements and not all contact lenses will fit the same. Your eye doctor can make sure the contacts you want will fit you correctly to avoid fit related injuries that could impact your vision. Also, if you have never worn contact lenses in the past, there are care instructions that need to be followed to keep your eyes safe. Your eye doctor will go over how to insert and remove your contact lenses and how to keep them clean to avoid infection. Contact lens related eye infections can be very serious and result in vision loss.
Win that costume contest and have an amazing, and safe, Halloween by being cautious with your costume makeup, using foam accessories and getting a prescription for those colored contacts.
By next Halloween, consider LASIK so you won''t need to worry about your glasses getting in the way of your perfect costume.
Happy Halloween from Chu Vision Institute!